Kyokai Information
Newly released: Nihon Sumo Kyokai Official Smartphone App "Grand Sumo" English version
In addition to profiles and records of the Makuuchi rikishi, see videos of their Torikumi, all free of charge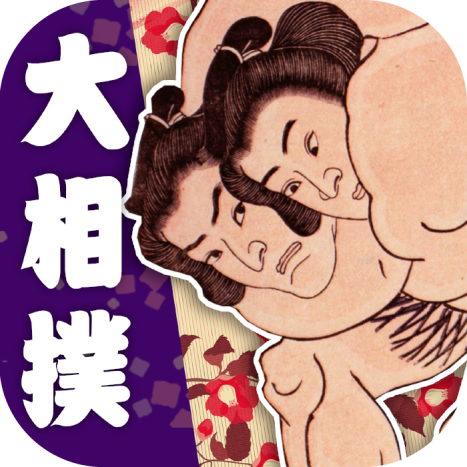 Public Interest Incorporated Foundation Nihon Sumo Kyokai (henceforth referred to as "Nihon Sumo Kyokai," of Sumida Ward, Tokyo, chairman: Toshimitsu Kitanoumi) in a business collaboration with Dwango Co., Ltd. (main office: Chuo Ward, Tokyo, President : Takashi Araki), has today released an English language version of the Nihon Sumo Kyokai Official SmartPhone App "Grand Sumo" for Android™ and iOS operating systems. Just as in the original Japanese version, the English version of the service allows users to check the details of the profiles and records of Makuuchi rikishi, and view all of their Torikumi videos. It allows you to receive the results of your favorite rikishis' Torikumi via push notifications, vote for the Juryo and Makuuchi rikishi that showed the greatest effort, or in the period between Honbasho events only, watch featured videos of the matches of past Yokozunas.
All Makuuchi Torikumi videos available
During the Honbasho period, videos of the Makuuchi Torikomi will be made available daily through the app.
Free trial members may view one video per day reviewing the Torikumi of the day, and check the winner and other details. Torikumi videos are available for as far back as May, 2010, so you can watch Torikumi you may have missed, as well as popular past bouts, anytime on your SmartPhone.
Tanimachi (premier) Members (paid option) have unlimited access to Torikumi videos as far back as May, 2010.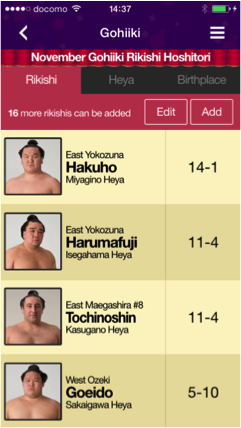 ▲Learn of the wins and losses of your registered "Gohiiki rikishi".
Push notifications let you know the results of your favorite rikishi's Torikumi
With the "Gohiiki registration" function, you can register your favorite rikishi, and follows his wins or losses when push notifications let you know of Torikumi results.
Plus, as a Tanimachi (premier) Members (paid option), you may register up to 20 rikishis, as well as 10 Sumo Heyas or hometowns to support. Receive even faster access to the Hoshitori of your rikishis of interest.
Even in English, you can cast your vote for the "Kanto Seishin Rikishi".
The English version also allows you to vote for the "Kanto Seishin Rikishi" among the Juryo and Makuuchi rikishis, and voting results are displayed daily on the Grand Sumo App.
As a Tanimachi (premier) Member (paid option), you can vote for the "Kanto Seishin Rikishi" even if you can't visit the Honbasho hall.
Highlight features to enjoy the Grand Sump App between Honbashos
Exclusively between the end of the Honbasho and the announcement of Banzuke, featured videos are available showing past Yokozunas, matches between rival Ozeki, their first entries, and other rare videos.
App images

▲Easy-to-view Banzuke with portraits

▲Torikumi announcement
designed after an electric sign

▲Rare movies of first entries
Release details
Title: Grand Sumo
Supported OS: Android4.0 or higher, iOS7.0 or higher
Service start date: January 9
th
, 2015
Price: free of charge
With Tanimachi (premier) Member system (paid option)
Google Play:
https://play.google.com/store/apps/details?id=jp.dwango.sumo&hl=en
App Store:
https://itunes.apple.com/en/app/id775745258
*Android and Google Play are trademarks and registered trademarks of Google Inc.
*iPhone、iTunes and App Storeare trademarks of Apple Inc. in the United States and other countries.
*Listed contents are current as of the date of release. Contents may be subject to change without warning.
Service details
Title
Nihon Sumo Kyokai Official Smartphone App "Grand Sumo" English version
Category
Sports
Service start date
January 9th, 2015
Compatible models
Smartphone (iOS,Android)
Introduction
[QR code]
[URL]
http://sumo.dwango.jp/en/
Price
free of charge
With Tanimachi (premier) Member system (paid option)
Offered By
DWANGO Co., Ltd
Copyright
©Nihon Sumo Kyokai /©DWANGO Co., Ltd